---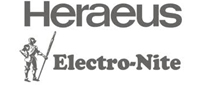 Heraeus Electro-Nite is the world market leader in sensor and measurement systems for the steel, aluminum, and foundry industries. As a recognized specialist in measurements for molten iron, steel, and aluminum, the company produces and markets high-quality sensors from global manufacturing and sales facilities on every continent. In close cooperation with its customers, Heraeus Electro-Nite develops product solutions that contribute significantly to greater efficiency and higher quality in production processes, as well as improving working conditions and protecting the environment.
---
Metallurgica is one of the leading manufacturers world-wide for continuous casting and bottom pouring powders. In addition to mould powders, the company also produces cored wire for secondary metallurgy. Metallurgica offers tailor-made products, developed in close co-operation with customers.
---
Established with over 100 years of production, the production of rolls and castings dates back to 1900. Valji assure high technological and quality levels to the satisfaction of more than 800 clients from over 20 countries... Valji has been certified in accordance to the standard ISO 9001 since 28.07.1998 and introduction of standard ISO 14001 is ongoing now.
With Valjis' wide range of products, Indefinite Chill Iron Rolls, Improved Indefinite Chill Iron Rolls, High Chromium Iron Rolls etc. Valji will have a product to meet customers' requirements.
---

Tianjin Hong Long Metals Co., Ltd is a wholly owned foreign enterprise, part of the world's largest core wire manufacturers in France, Group A Feier (AFFIVAL), servicing the steel, foundry and non ferrous industries throughout China and abroad. Started in 2007, Tianjin Hong Long Metals Co., Ltd has enjoyed steady growth and diversification with a constant focus on quality. Tianjin Hong Long has a wide range of cored wires to fulfill customers' requirements and with the emphasis on quality, our cored wire has a reliable and consistent yield, less agitation of the liquid steel which minimizes pick up of gases.
---

ASK CHEMICALS is one of the largest suppliers of complete solutions and tailor-made consultation services for the foundry industry. The core of the company's activity involves manufacturing all foundry consumables required for the production chain as well as providing optimum technical services in order to perfectly adapt our products to the processes on the customer's premises.
---
KELK, formerly George Kelk Corporation, became part of the Vishay Precision Group family in 2013 under the name, Vishay Precision Group Canada ULC (KELK). Kelk was founded in 1953 and is an ISO 9001:2008 certified company. KELK specializes in the design and manufacturing of high-accuracy and high-performance sensors and systems for the steel industry, mainly for rolling mills. KELK offers five main product families: rolling force measuring load cells and systems; web tension measurement load cells and systems; strip width optical gages; strip velocity meters; and, closed-loop control systems for optimizing rolling mill operation. Their products meet the most demanding requirements of the steel industry, providing high accuracy and reliability under the most demanding harsh conditions of rolling mills and exceeding customers' expectations.
Business Partner with Thaimet Resources Co., Ltd. For any sales enquiry, kindly contact sales@thaimet.co.th
---
REBS Zentralschmiertechnik GmbH was founded in 1948 and has developed into a modern, international company. The family-run company, now in its 3rd generation of management, employs over 150 staff worldwide and is the leading provider in many areas of central lubrication technology.
Business Partner with Thaimet Resources Co., Ltd. For any sales enquiry, kindly contact sales@thaimet.co.th
---
DONGBANG have come along with iron & steel companies home and abroad and have become a successful manufacturer and contractor of various iron & steel equipment, especially ROLLERS, SEGMENT ASSEMBLY for steel plant construction or spare parts. DONGBANG have been selected as a PCP supplier(POSCO certified partner) since 2005 and recommended to other steel works as the specialist for GUIDE ROLLER from POSCO. With best global competitiveness, with extensive experience and excellent technology accumulated through the completion of diverse machineries, DONGBANG are confident that they are well prepared to meet all requirements of your company. Furthermore DONGBANG have provided the steel plant parts, Maintenance projects like as Mold, Segment, Mill stand and etc. And in case of cold rolling mill process they have provided many kinds of Line such as RCL, CGL, KAL, PL TCM and etc. including engineering works.
Business Partner with Thaimet Resources Co., Ltd. For any sales enquiry, kindly contact sales@thaimet.co.th
---
Established in 1886, MAINA has been operating for over sixty years in power transmission equipment for industrial plants.
The Company specializes in engineering, manufacturing, commercializing and repairing:
light and heavy series gear couplings,
high speed gear couplings,
gear joints for high speed trains,
multi-disc couplings GL series,
disc couplings for wind turbines WGL series,
gear spindles,
slipper spindles,
medium and large-size universal shafts for high load capacity,
safety devices,
planetary reducers.
Business Partner with Thaimet Resources Co., Ltd. For any sales enquiry, kindly contact sales@thaimet.co.th
---
SICMEMOTORI has been designing and manufacturing electrical motors for 40 years for industrial applications with power ratings from 0.5kW up to 2500kW, particularly where speed variation is required.
SICMEMOTORI is ISO 9001:2000-certified, and its production is managed by an M.R.P. system. All working processes are recorded by means of an updated laser barcode reader which characterizes all internal working methods and constantly verifying the entire manufacturing process.
Business Partner with Thaimet Resources Co., Ltd. For any sales enquiry, kindly contact sales@thaimet.co.th